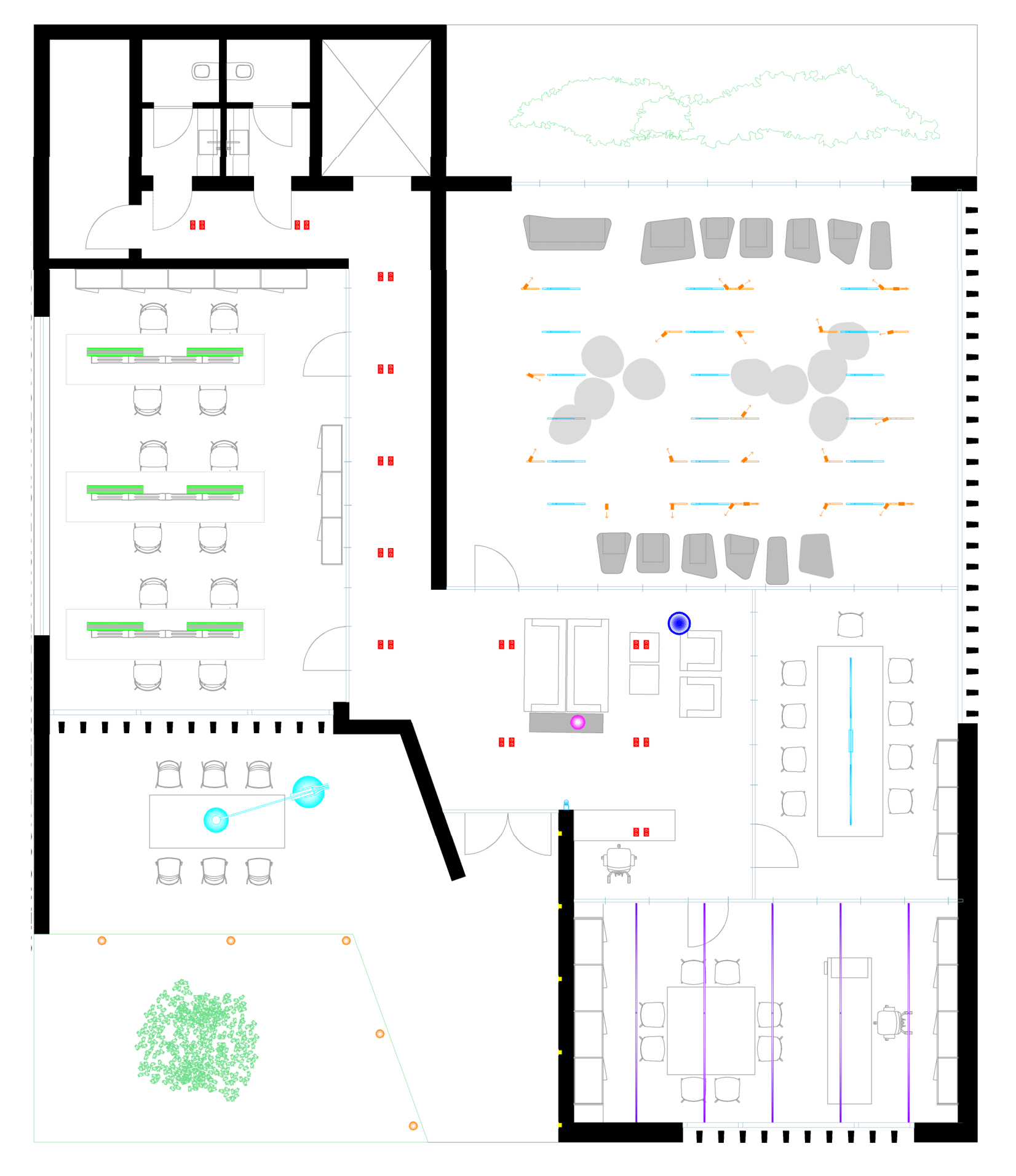 The project
After the meeting with the customer and the site inspection, we developed the lighting project for this building including the outdoor area, offices and showroom. The customer's aim was to integrate the natural light coming from the large windows with specific lighting for each area that would enhance the architectural features and interior finishes, but also to respect the regulations for the workplace. For this reason, in addition to the choice of decorative lighting fixtures to complete the architectural concept, more technical ones were chosen for general lighting, with high-performance optics.
Wall-e

Rabbit

Recessed spotlight

Spotlight

Sapp Lamp

Table lamp

Floor outdoor lamp

Floor lamp

Outdoor steplight

Bollard
The UNI EN 12464 standard for workplaces, for example offices, sets illuminance values of 500 lux above the work surface and UGR glare values of less than 19. To comply with these values, specific lighting surveys were carried out through the development a three-dimensional model of the building, based on the plans and sections provided by the customer. This operation was repeated for all the internal environments following the specific regulatory requirements.
For the technical offices, a system of linear light elements was integrated into the slatted false ceiling, with a certain distance to obtain an excellent level of visual comfort. These elements can be customized in length in order to adapt to the dimensions of any environment.
In the administrative offices, suspensions with stems above the workstations were installed. We engineered and produced these lamps made on design of the architect.
Double lighting was chosen for the showroom, ie tracks with linear bars for diffused light and projectors with specific optics for accent lighting. This system allows a high level of interchangeability, adapting according to the exhibition needs.
For the exterior, products with a high degree of resistance and impermeability were chosen, both wall recesses for the pedestrian walkway towards the entrance, and projectors for the garden, as well as a decorative floor lamp for the recreational area.
The management of the light scenes for each room, the lighting levels, the switching on and off was made possible by the DALI management system, a digital protocol that allows the transmission of data from a control unit toeach single lamp. Presence sensors were also added to manage the light in each room based on the contribution of external light to optimize consumption.
On the whole, a project was provided including a layout with the arrangement of the various lighting fixtures, the lighting engineering surveys and the technical data sheets with all the specific features useful both to the customer and subsequently to the installer.